Description
An American Arborvitae scientifically known as Thuja occidentalis hedge stays dark green year-round and holds its feathery needles throughout the winter. The distinctive narrow conical shape and dense foliage makes for a sturdy and visually appealing hedge. American Arborvitae in the InstantHedge 10 linear feet package is great for privacy and a polished look.
USDA Hardiness Map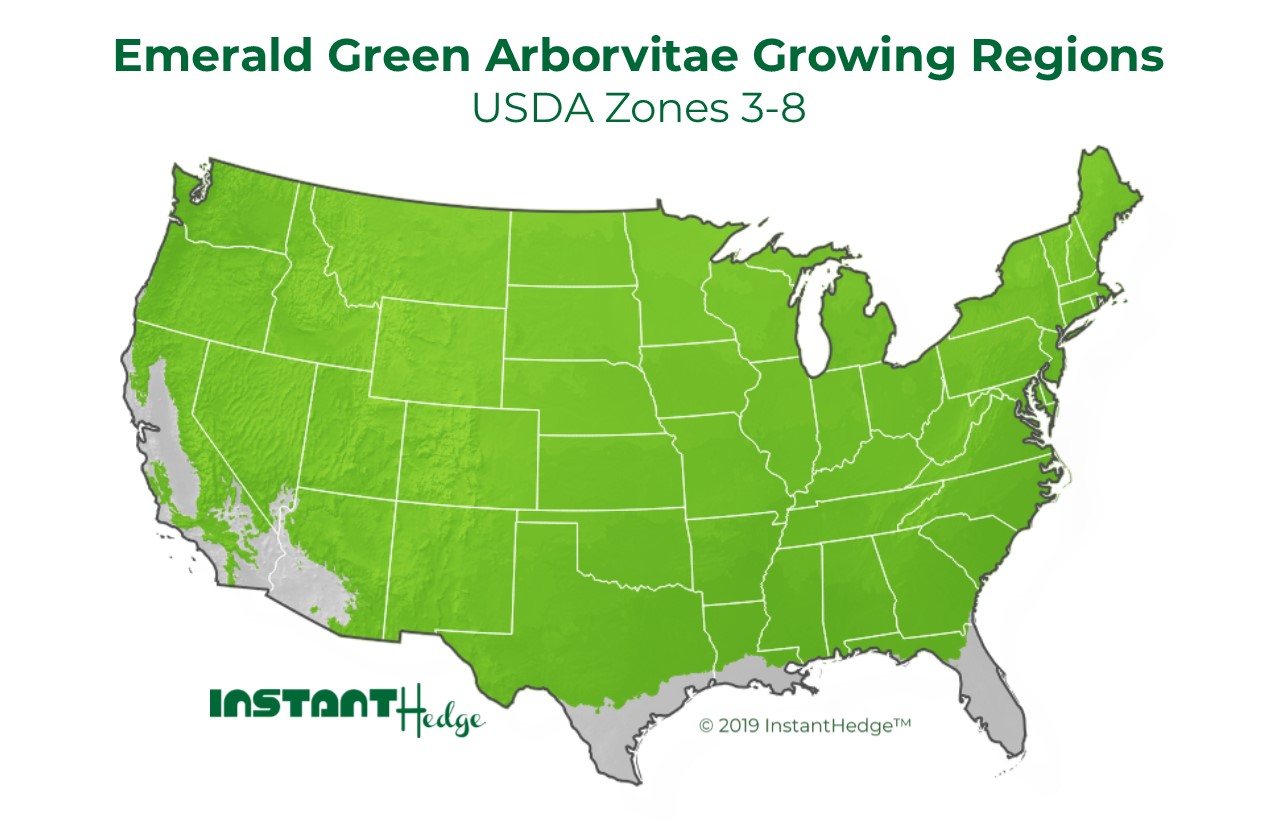 Plant Form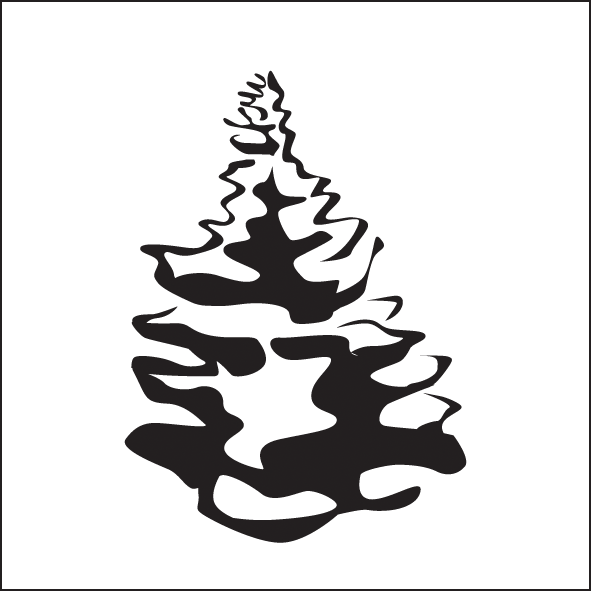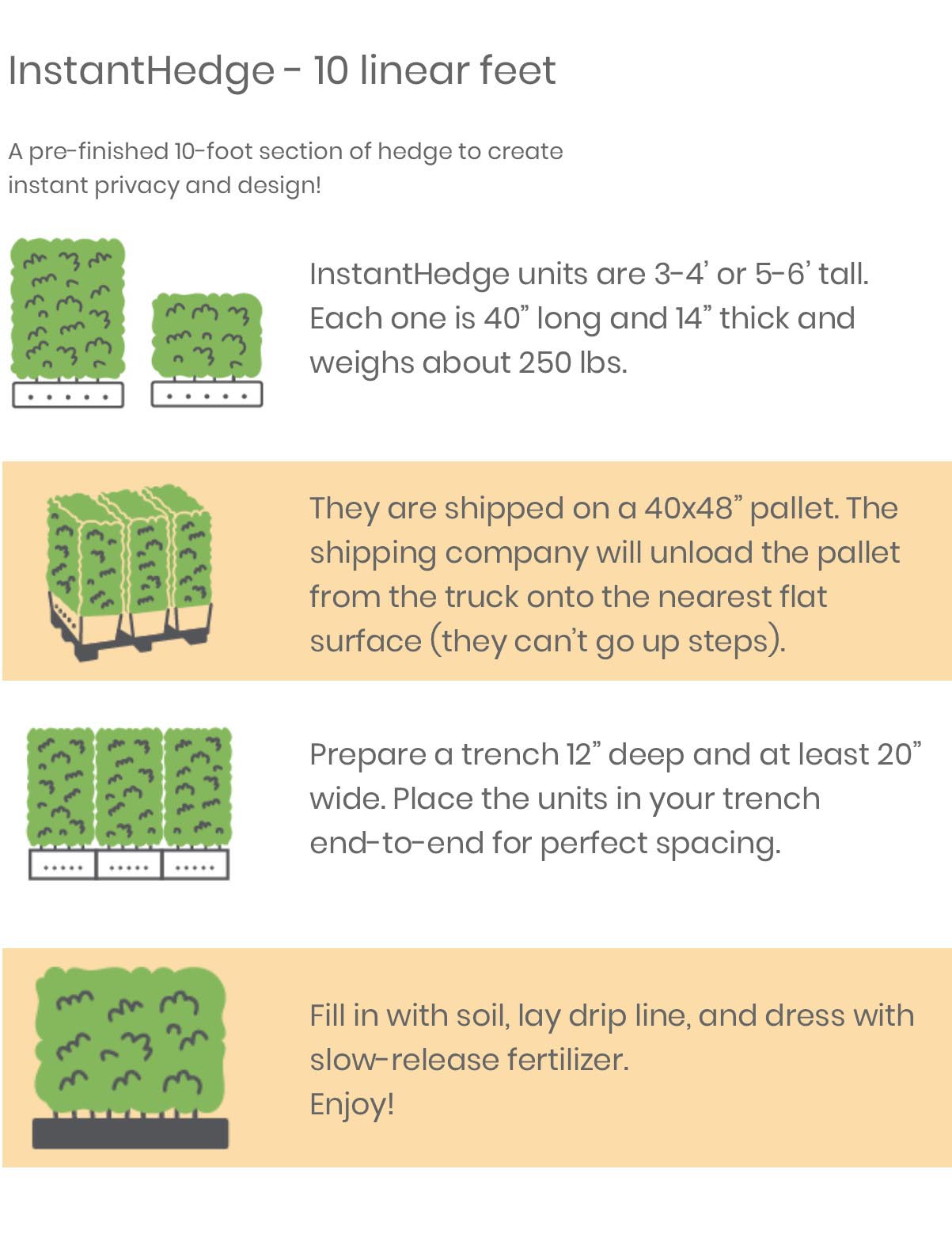 AMERICAN ARBORVITAE QUICK GUIDE
American arborvitae is tolerant to different soil types and resilient in an urban setting
The common name of arborvitae, or "tree of life", comes from the early settlers in North America who learned from Native Americans that the tree's foliage, sap, bark and twigs had medicinal properties.
The American arborvitae hedge is native to eastern regions of Canada and the United States but has been a popular tree for ornamental uses in many regions around the world. The tree was introduced to European growers in the early 16th century.
THUJA OCCIDENTALIS DETAILS
There are a number of immediate benefits to choosing the Thuja occidentalis for your next hedge:
– Makes an excellent privacy screen when planted in a tight row
– Works well with a regular pruning schedule
– Requires little overall maintenance
The American Arborvitae in InstantHedge 10 linear feet package needs adequate water to stay healthy and may need more than a moderate watering schedule if planted in extreme heat. For winter landscapes, American Arborvitae's dark green foliage can make a nice accent in an otherwise colorless yard and works as a great accompaniment to flowering plants during the rest of the year. For a more compact version of this plant, check out the Emerald green arborvitae hedge. We carry several other types of arborvitae hedges as well, and they are some of our most popular hedge types. You can also check out other different kinds of hedging plants here. Green Giant Arborvitae is an excellent choice for a similar but faster-growing hedge.
Top Qualities of American Arborvitae
1. Dark Green Color
2. Pyramidal Habit
3. Moderate Growth Rate
4. Easy to Maintain
5. Incredible Density