Plants With Colorful Spring Growth
Spring is a season of new beginnings, where the world awakens from its winter slumber and bursts with vibrant colors and new life. One of the most iconic symbols of spring is the beautiful and blooming colorful spring growth that adorns gardens, parks, and streets with its bright and cheerful hues.
Warmer, springtime temperatures invite a host of colorful foliage to emerge from winter's dormant buds. At Conifer Kingdom, many The brightness of the leaves in the landscape plants is beginning to come to life.
Among the first conifers to emerge in spring are the larches (Larix). Golden European Larch (Larix decidua 'Lucek') has golden new growth in the spring and appreciates a bit of shading in summer. Summer color is a vibrant lime green before cool fall temperatures welcome a brilliant golden display!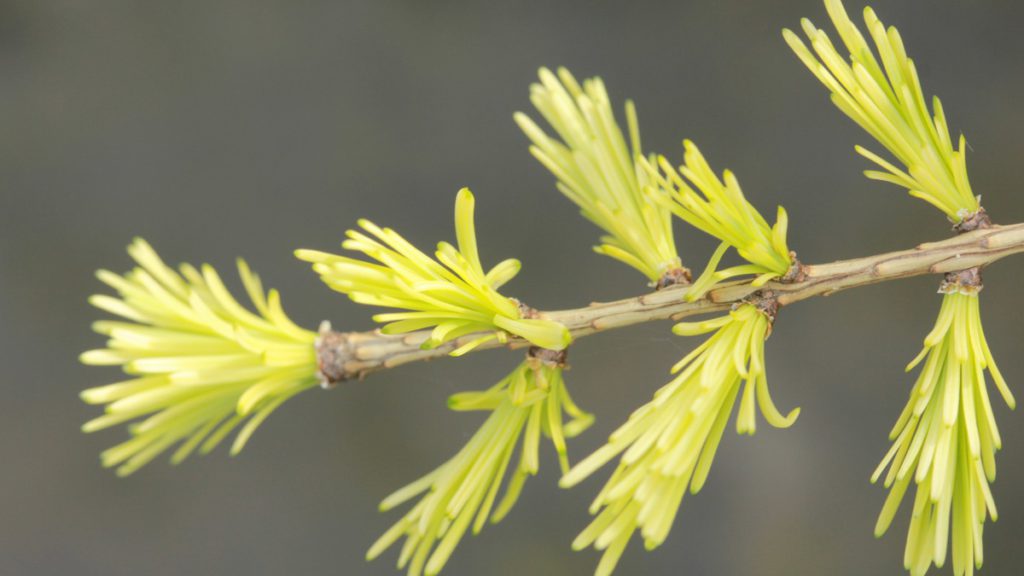 A new, exciting cultivar of larch available in limited quantities is Larix decidua 'Krejĉi'. This bizarre little conifer has an irregular, slow-growing habit with thick, curving branches. These fascinating stems have dense clusters of buds that form sporatically throughout, followed by a short six-inch burst of growth. The congested buds compress the dark green foliage, giving the appearance of a gnarled pipe cleaner! This plant was discovered as a root growth in the Czech Republic in 1984, and it has a distinctive golden-copper color in fall. While larches are traditionally easy to propagate, the unusual growth patterns and branch thickness make bringing this plant to market difficult, and we expect it to be scarcely available elsewhere for years to come.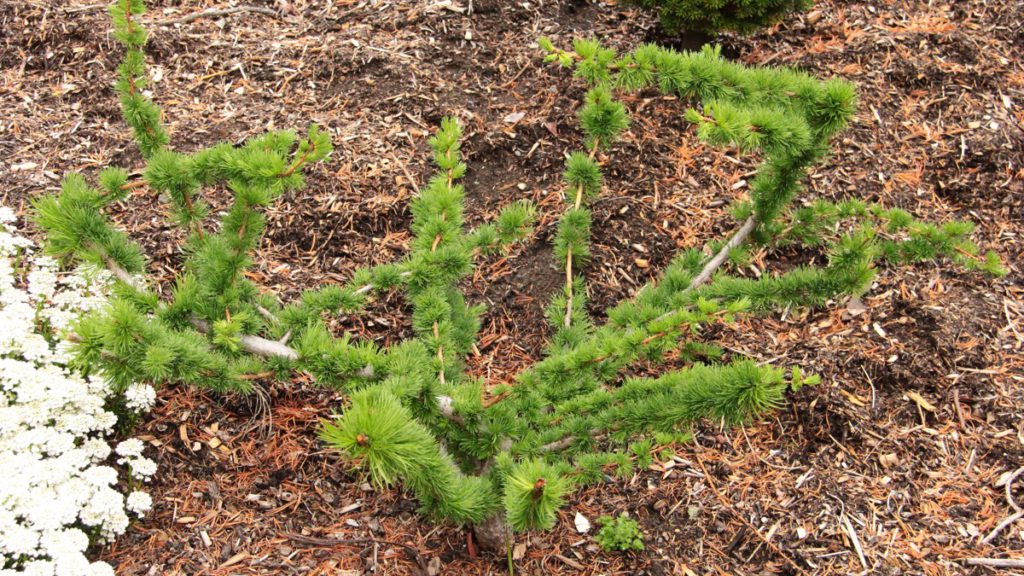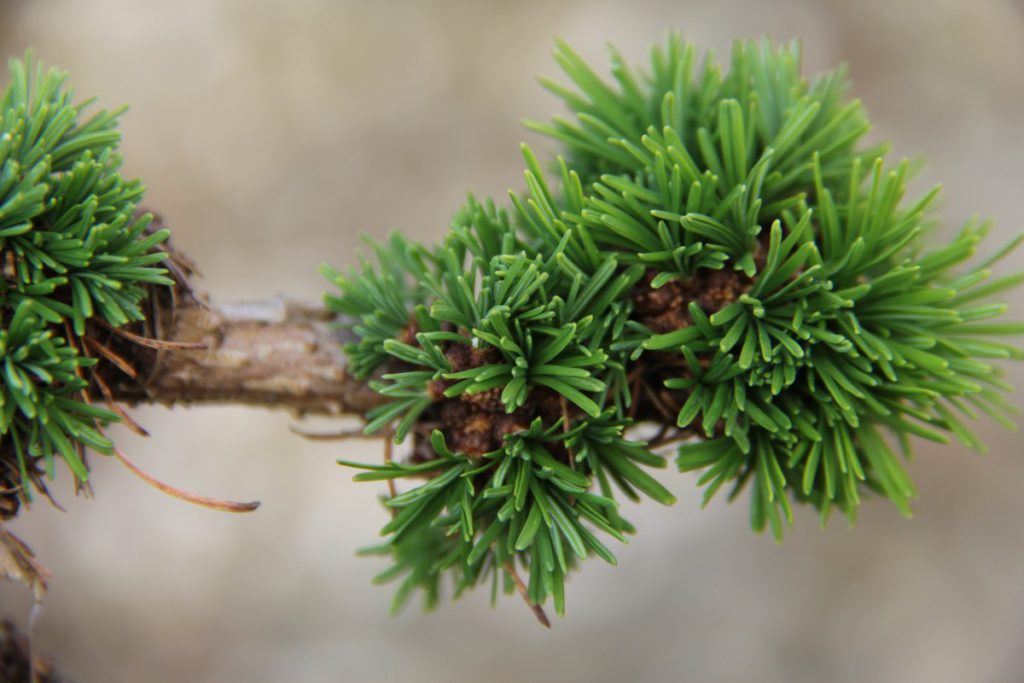 Some spruce also make their debut early in the season. Picea pungens 'Colonial Gold' is one such spruce, showing a kaleidoscope of yellow, blue and green by early April (in Oregon). This cultivar will eventually form a broad, pyramid-shaped conifer that retains some golden tips on the needles through the year.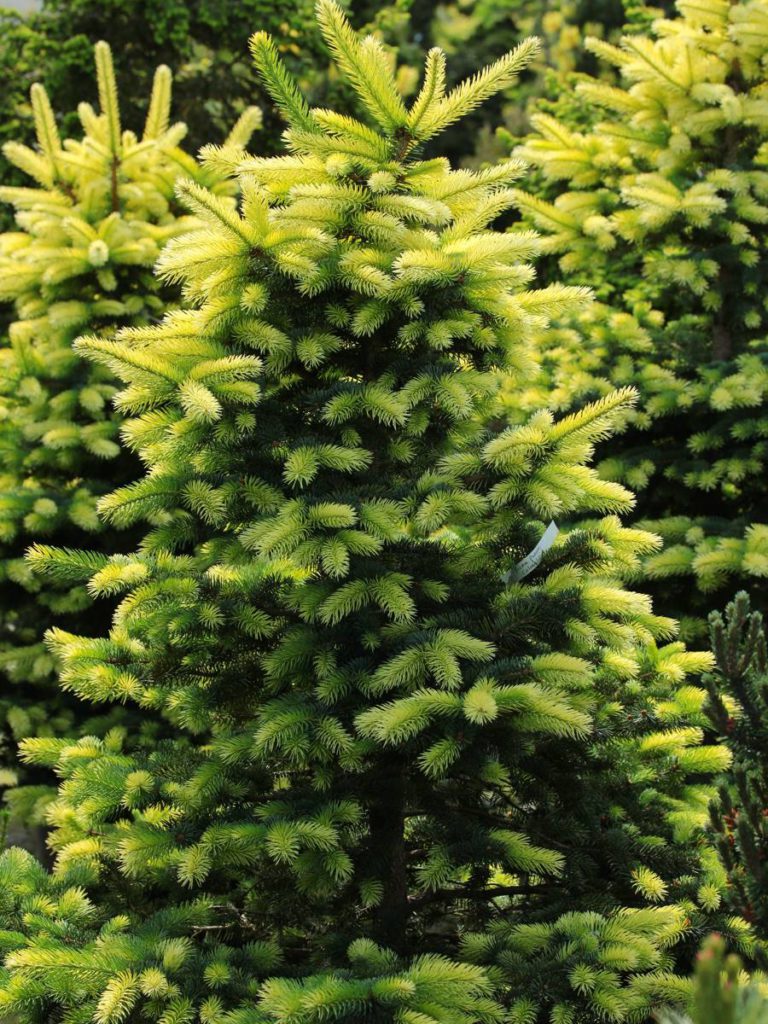 For something a little smaller but also having vibrant colors, Picea glauca 'Daisy White' is an appropriate plant that forms a dense, narrow column of foliage. In March, tender needles emerge a yellow-green color, but by April they are creamy white. This plant is a unique and attractive substitute for the much more common cultivar, 'Conica'.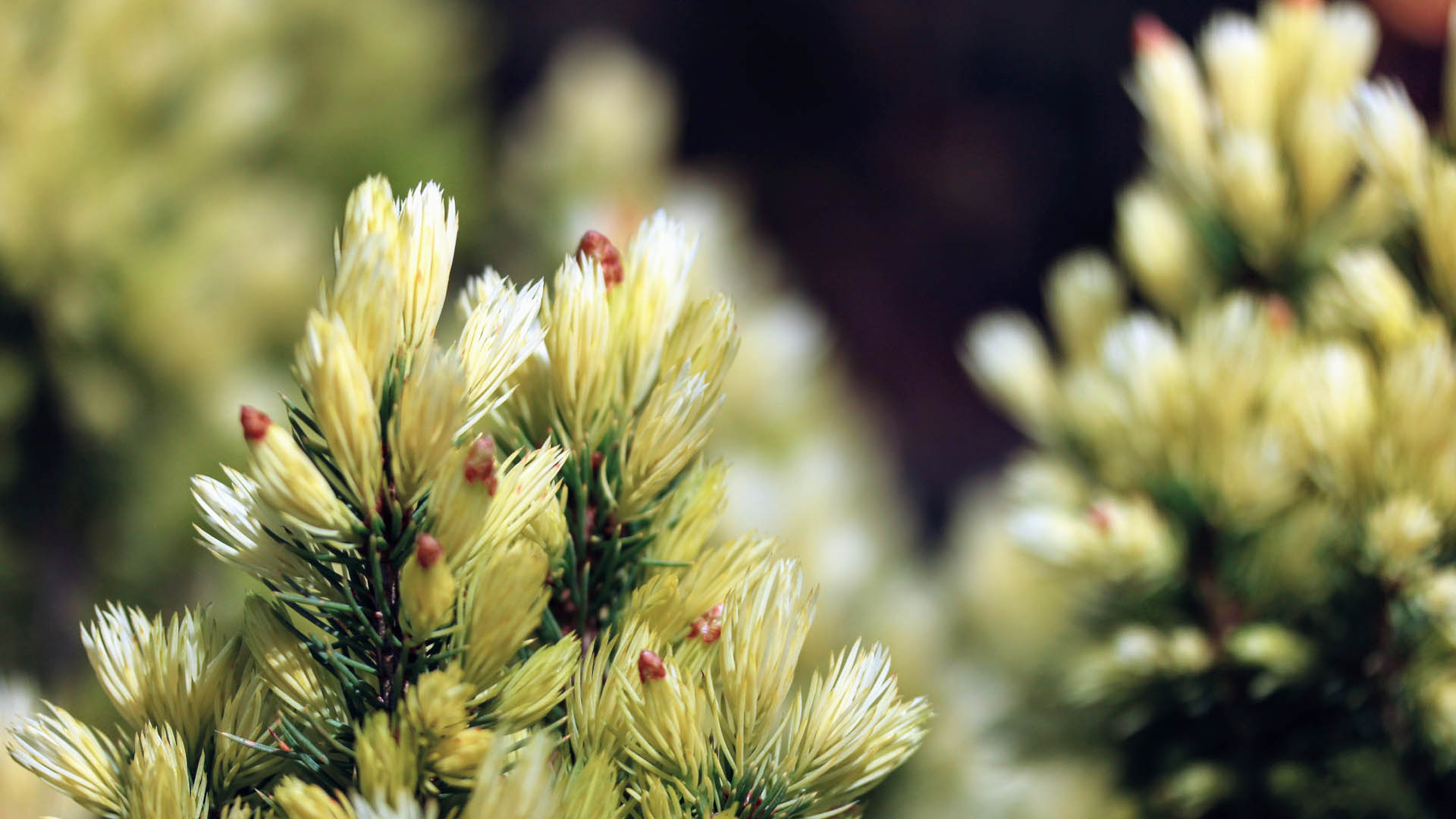 Red is a color uncommonly seen in conifers. However, this unique spruce has outstanding crimson red new growth in spring: Picea abies 'Cruenta'. The overall effect is breathtaking, especially on a larger specimen, giving the essence of a Christmas tree decorated with numerous red ornaments.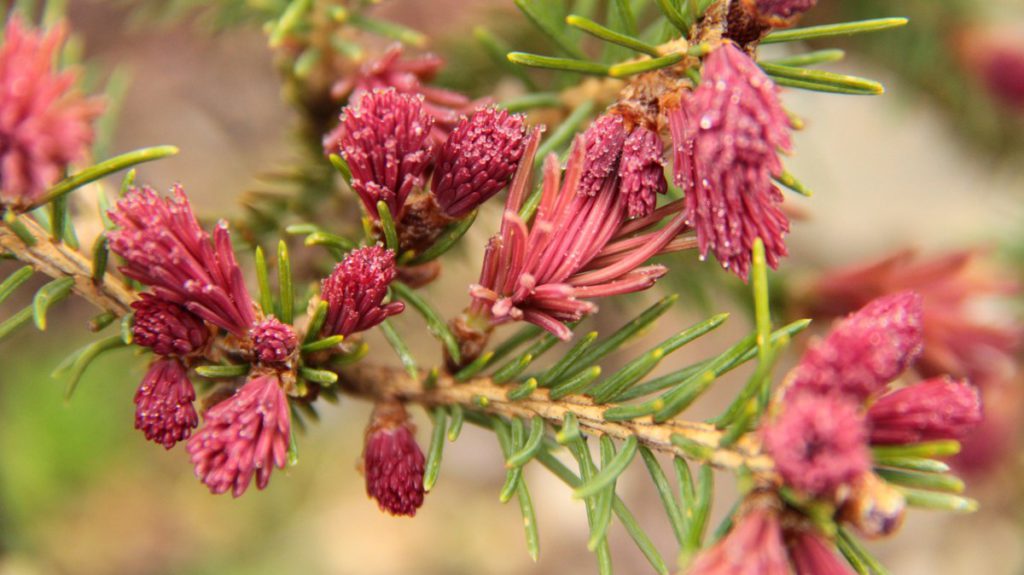 The brilliant red color displayed by 'Cruenta' is also shown on the bountiful cones of a new spruce cultivar, Picea pungens 'Ruby Teardrops'. This slow-growing, globose Colorado blue spruce has ruby-red cones at the end of each branch! In spring, the color contrast is truly magnificent, and the bright red colorful spring growth will last a maximum of four weeks under cool and moist conditions. However, the profusion of cones at the tips of 'Ruby Teardrops' remain vibrant for months, before fading to a pleasant muted magenta in late summer and fall, becoming khaki colored for winter.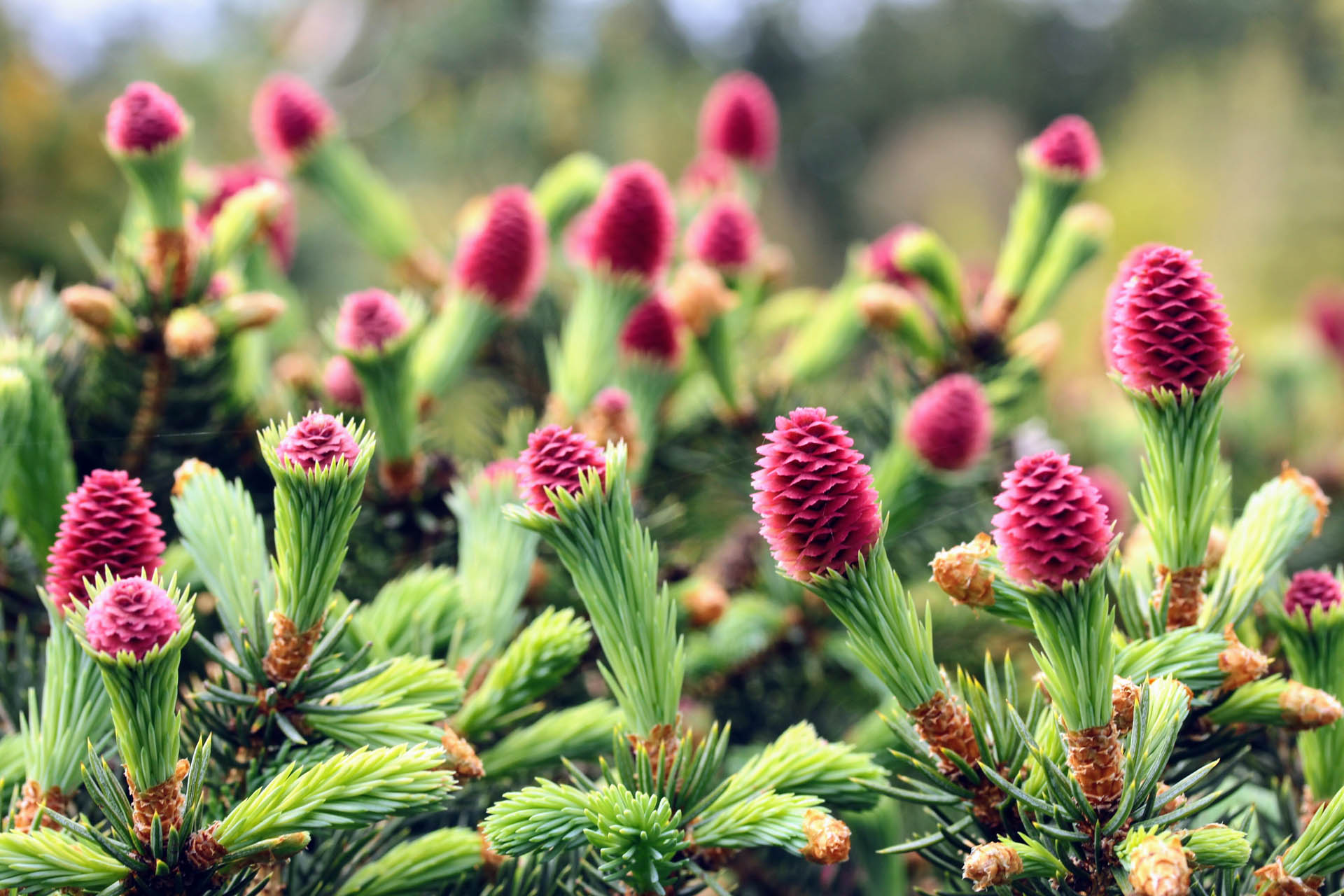 Japanese maples also have an abundance of colors in the spring. A maple with very distinctive leaf arrangement is the
well-known Acer palmatum 'Mikawa yatsubusa'. Even in early spring, the light-green, densely-set leaves give a vivacious appearance to this slow-growing maple. While reds, pinks and variegated Japanese maple cultivars are responsible for transitioning a gardener into a "collector" of Japanese maples, it is varieties like this, albeit green, which have such an outstanding layered, pagoda-like leaf arrangement which keep a collector smiling in late summer.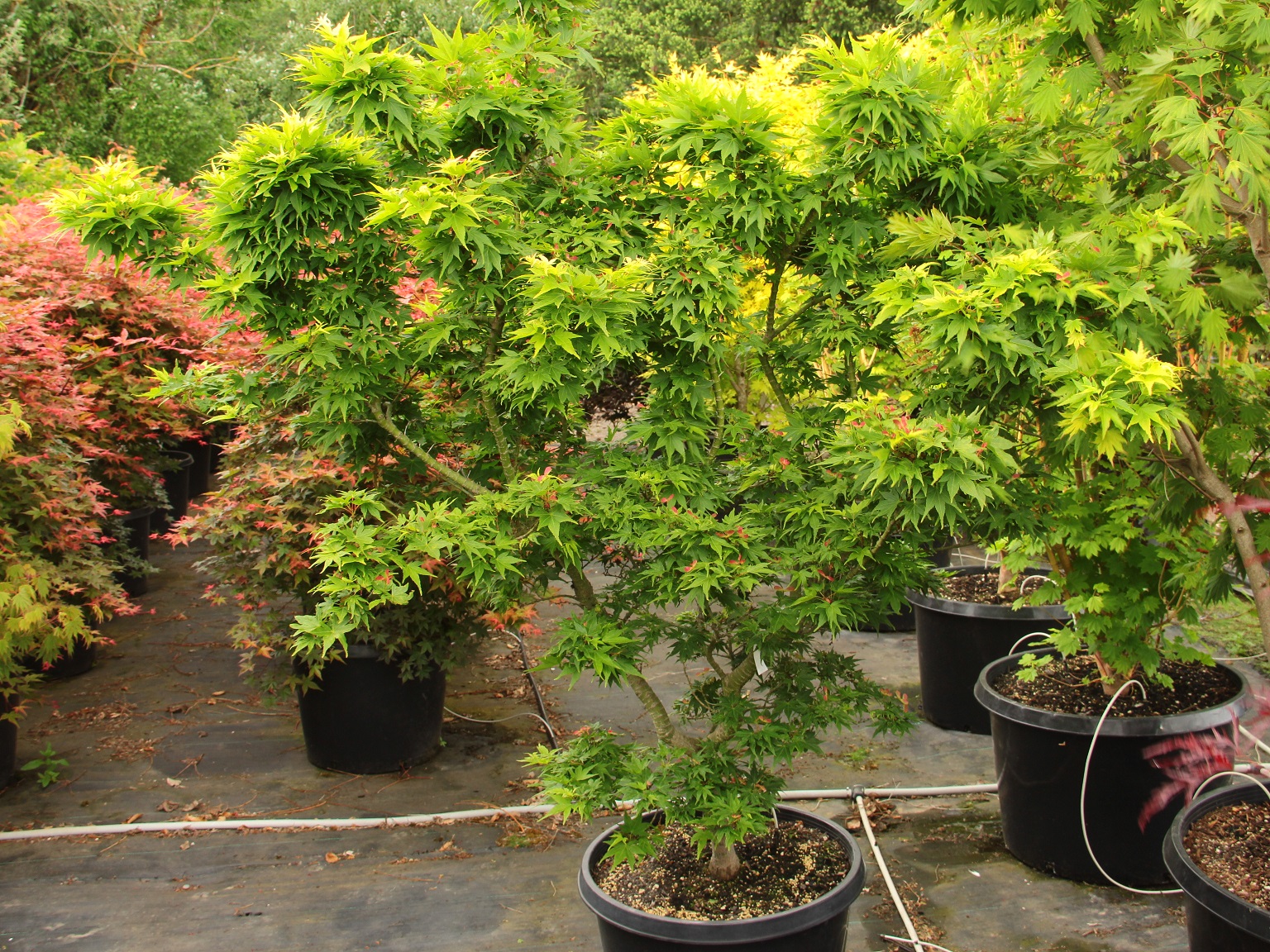 Another maple with a natural bonsai-look is Acer palmatum 'Shishigashira'. The congested, very dark green leaves are thick on the ascending branches of this dwarf tree. The slightly crinkled leaf edges and the ornamental, relatively slow-growing branching structure make this cultivar a beautiful tree for any landscape. We currently have a great number of these available in 5-gallon containers at a great sale price!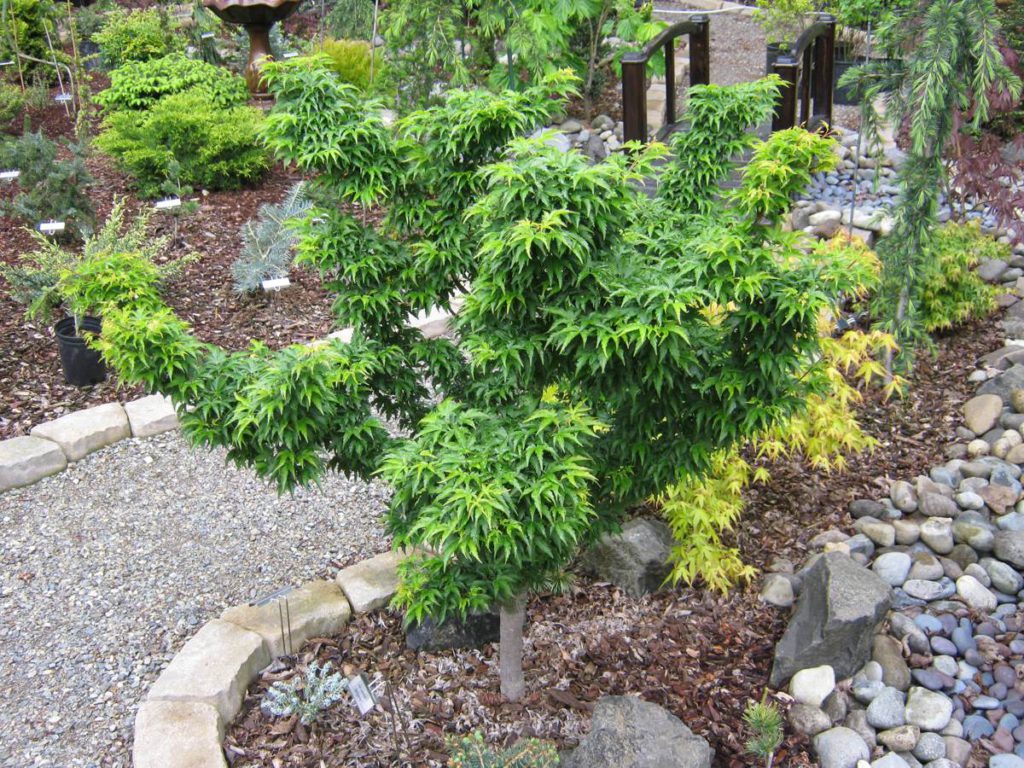 Red-colored maples really make a statement in early spring as well. Acer palmatum 'Kurenai jishi' has a remarkable spring coloration and a habit and growth rate very similar to the aforementioned 'Shishigashira'. Foliage emerges a light, tomato-soup red color, with yellow-green leaf veins. By summer the color deepens to burgundy highlights on dark-green foliage. Fall resolves the leaf color to a fiery crimson. This maple is the pinnacle release of renowned Japanese maple author and enthusiast Masayoshi Yano. Prized in Japan for its tight, layered red leaves, this variety "sneaked" into the states and is available through few nurseries.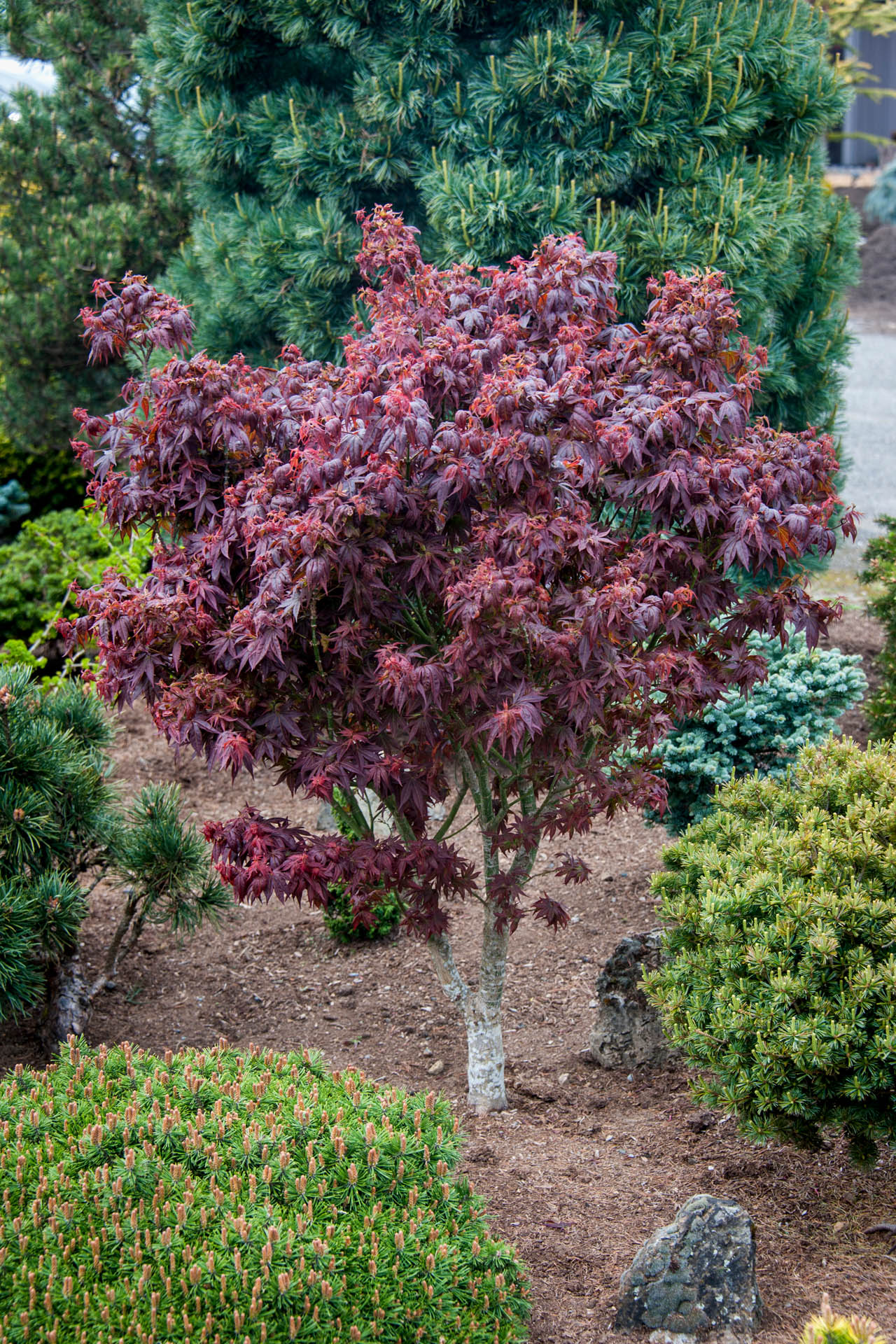 Another equally beautiful, red-toned maple is 'Ruby Star'. As the small, star-shaped leaves emerge in their bright red tones, this dwarf, compact maple shows a brilliant colorful spring growth and display. Later in the season, the intensity of the leaf color fades until additional leaves emerge in summer. This distinctive attribute, accompanied by the ornamental leaves, make this slow-growing maple an excellent selection for virtually any garden. 'Ruby Star' has also been offered under the name 'Beni hoshi' meaning "Red Star," though is better known within the trade as 'Ruby Star' which is why we keep the name.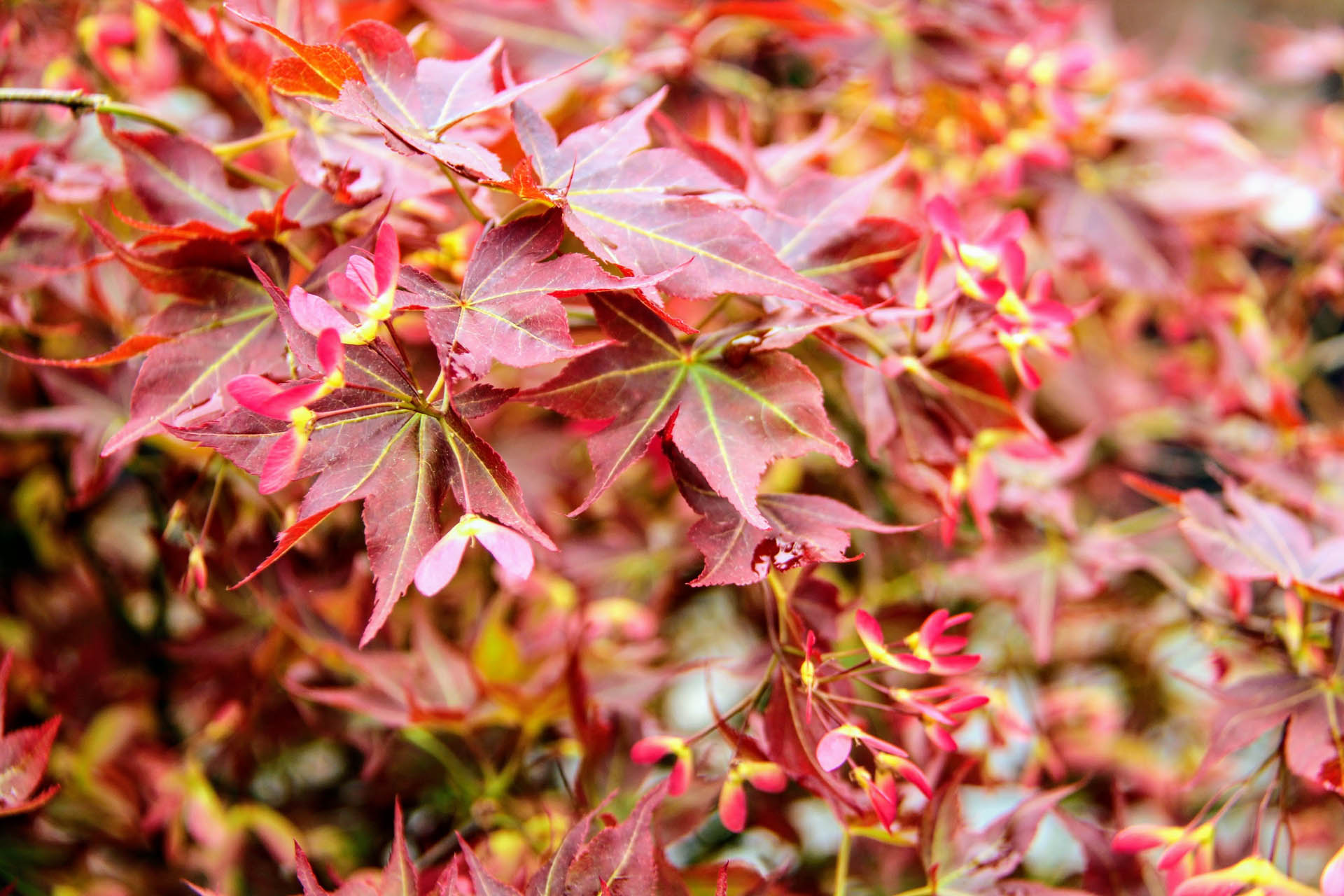 Acer shirasawanum 'Aureum' represents the yellow color that is so desirable among maple cultivars. New leaves emerge a light, yellow-green, yet this color richens into an even more noticeable butter-yellow in late spring and early summer. Fall color is a glorious display of crimson and orange. The brightness of the leaves in the landscape creates a contrast amongst many landscape plants, best, however with purple, blue, or burgundy flowers or foliage.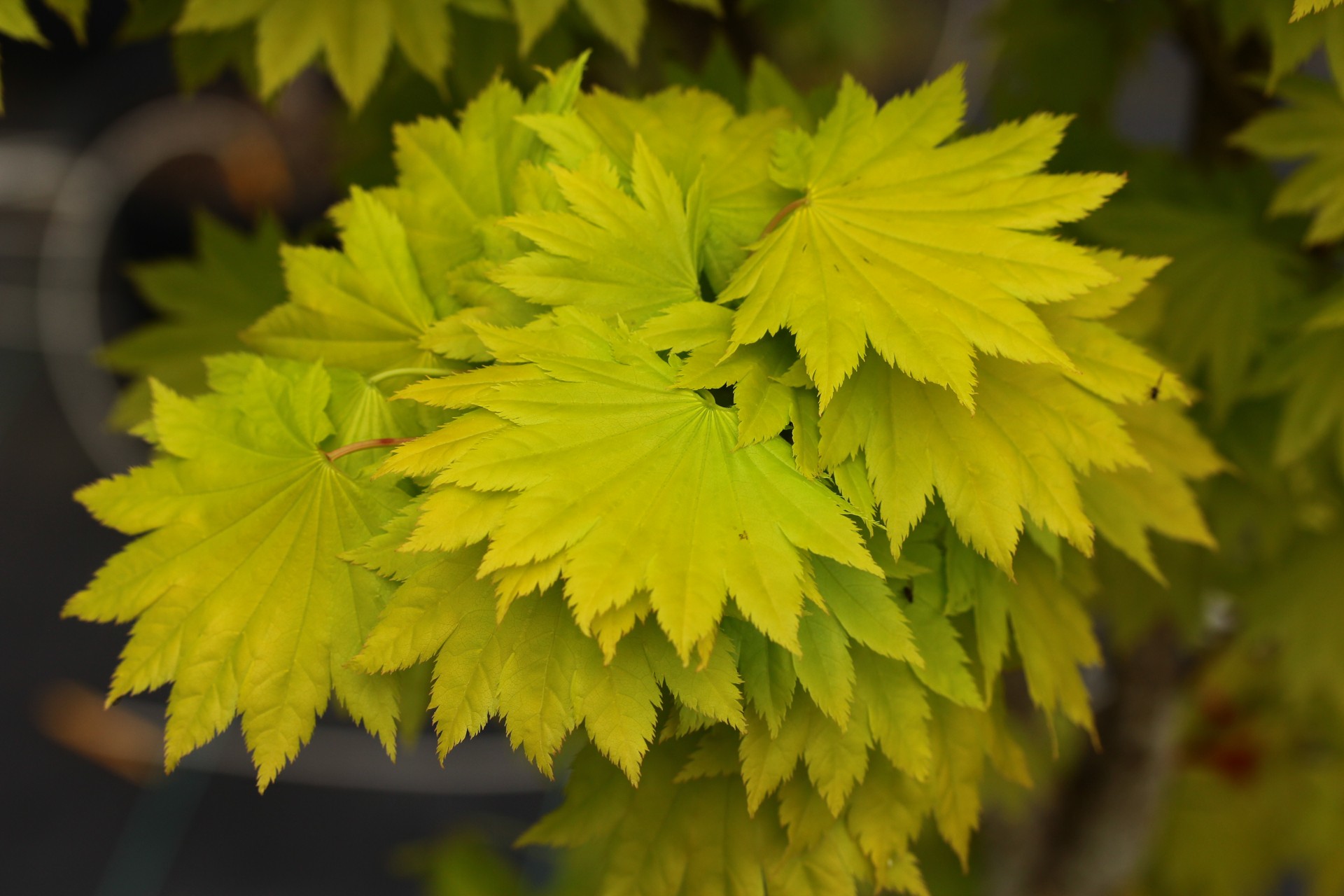 One new and very colorful maple that has remarkably stable variegation is Acer palmatum 'Radiant'™. The dainty leaves on this slow-growing maple have a stunning pink, white, and green coloration! Some leaves bear more green than others, but the general appearance gives the impression of a pink Japanese maple, especially when grown in morning sun and afternoon shade.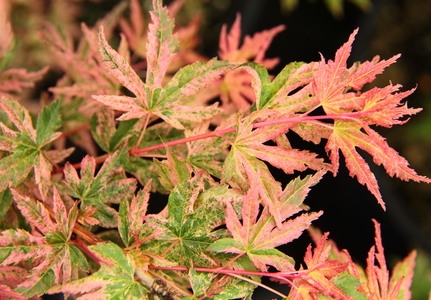 Hope you enjoyed dreaming about spring!
Until next time, friends..
–Sam Pratt & Brent Markus