Autumn Moon – The Ultimate Orange Maple?
Are you in search of a low-maintenance Japanese maple that will blow you away with its seasonal color change? Autumn Moon Full Moon Maple has filled this void for many discerning gardeners.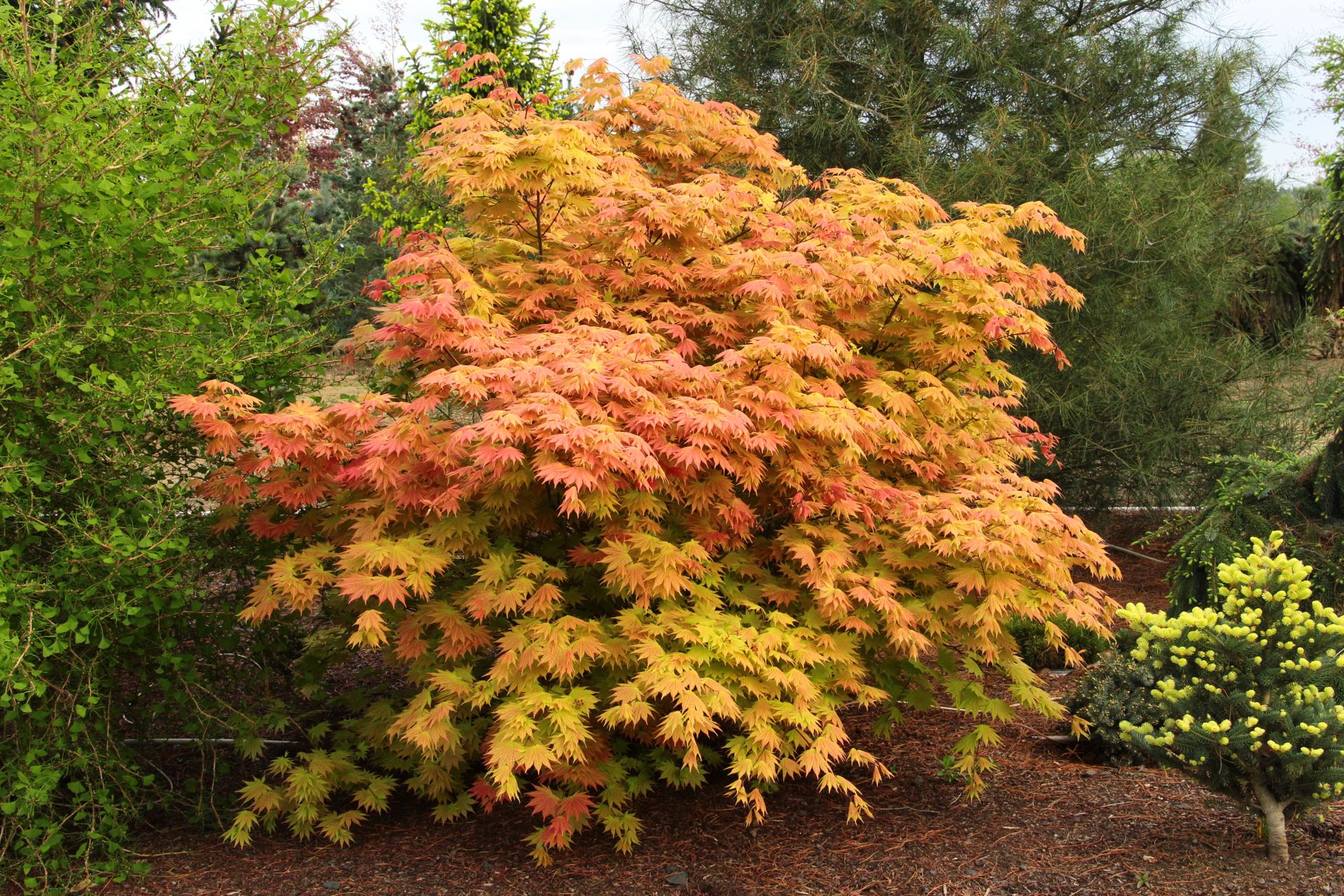 Autumn Moon was discovered as a seedling by J.D. Vertrees at Maplewood Nursery in Roseburg, Oregon. It belongs to a unique species among several that are considered "Japanese maples": Acer shirasawanum, also known as the Full Moon Maple or Shirasawa Maple.
Its leaf shape is different than your typical Japanese maple, or Acer palmatum types. Autumn Moon has beautiful leaves that unfurl into the shape of a delicate fan. The tree grows at a moderately slow rate of 6-9" per year into a respectable 7' tall by 4' wide at 10 years old, although they can be easily trained to form a more low and wide habit. It has a beautiful structure, with graceful branching that needs no pruning.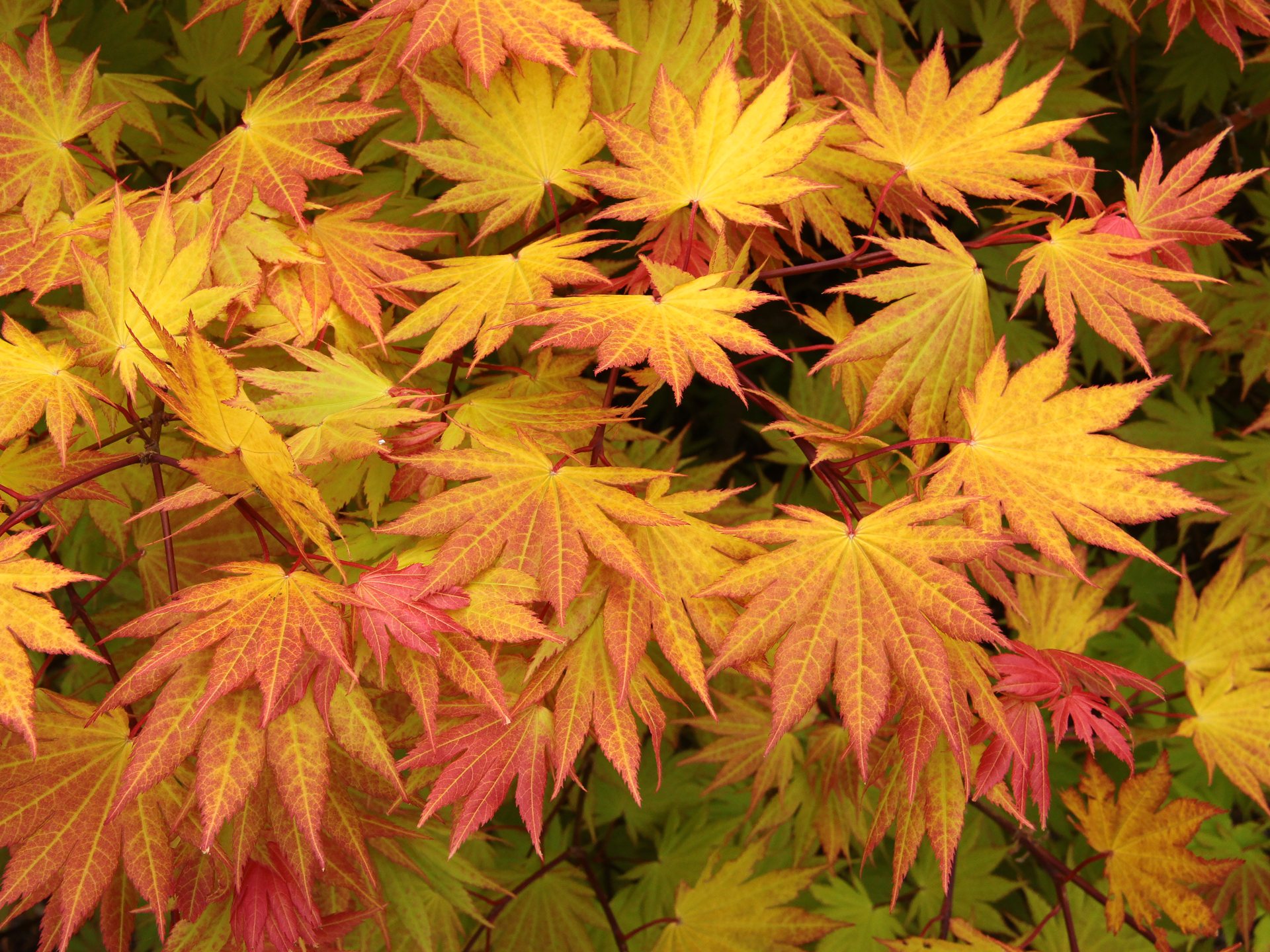 Autumn Moon is hardy in USDA Zones 5-9, and is known to thrive in tough locations like Chicago, IL for decades. It can be grown in full sun without danger of burning, and also thrives in full shade. It does well in moist, well-draining soil.
Mulching can help retain moisture in the root zone. It is best to plant Autumn Moon either in fall or early spring before the leaves emerge.
This maple is beloved by many gardening and maple enthusiasts. It is one of our top sellers year after year, with good reason.
Sun VS Shade
Autumn Moon's coloration is heavily influenced by its sun exposure.
When grown in full shade, it displays a lovely bright yellow-green through the year. It seems to glow and provides a beautiful bright focal point in the landscape. It thrives alongside companions like hostas, ferns, and Epimedium types.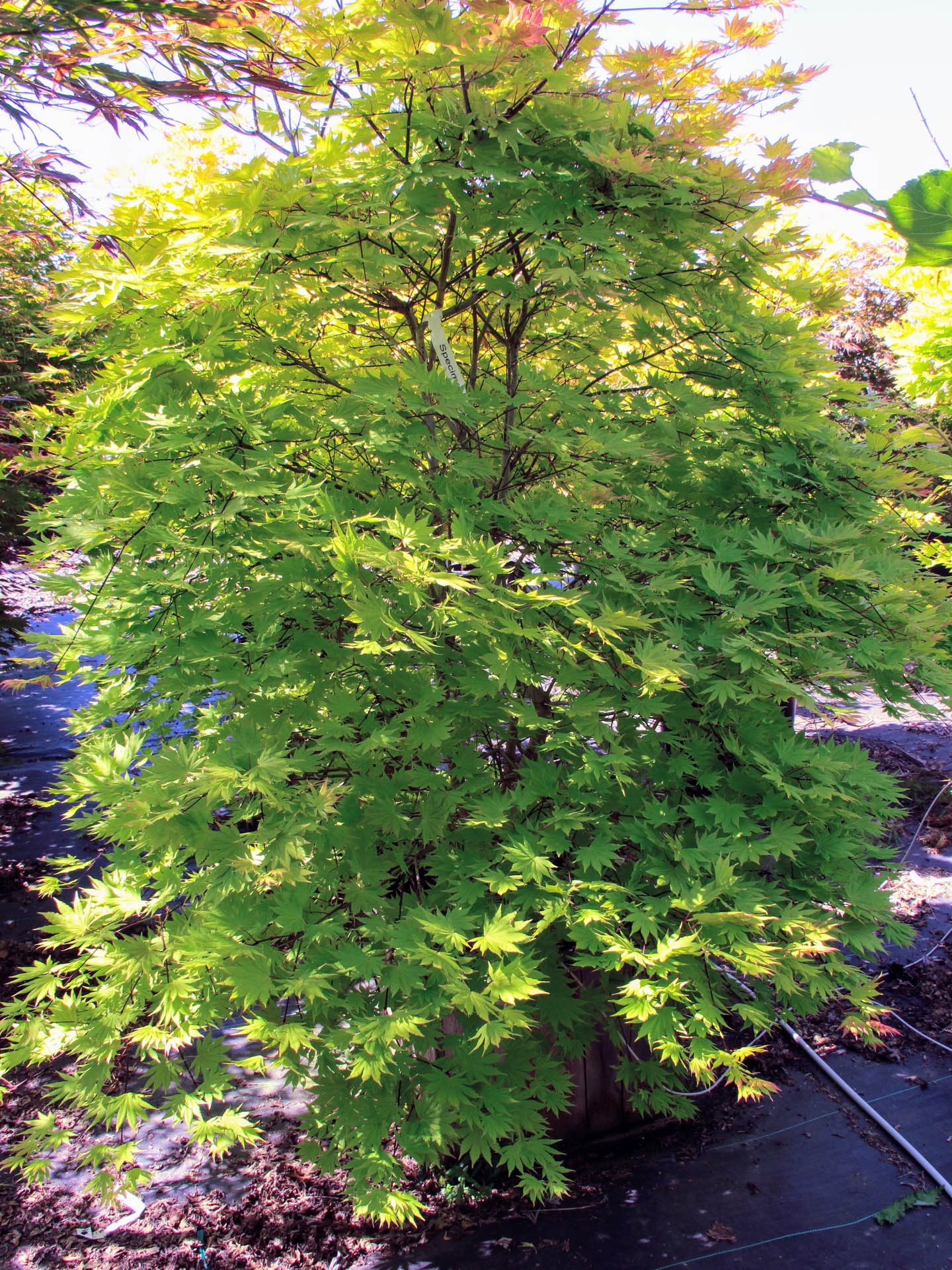 When grown in bright or partial shade, you may notice a coppery sheen on leaves that are exposed to more light.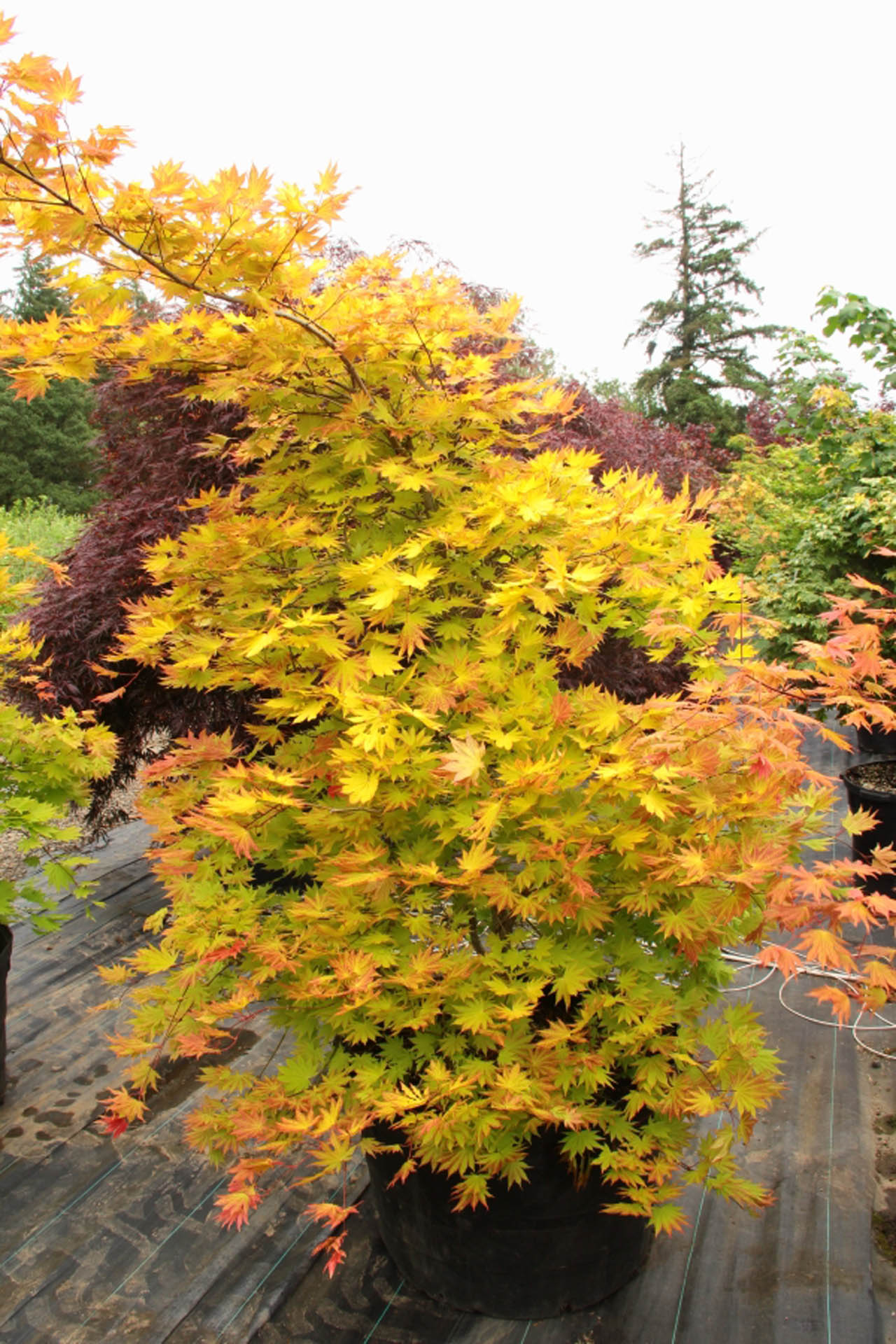 When grown in full sun, the orange color display will be at its peak. You will see hues ranging from burnt orange to peach to apricot, almost like the leaves are blushing in the sun. While Autumn Moon is healthy and happy in the shade, the color range it displays in full sun is second to none. Great companions in sunny locations are lavender, iris, peony, and grasses with blue hues.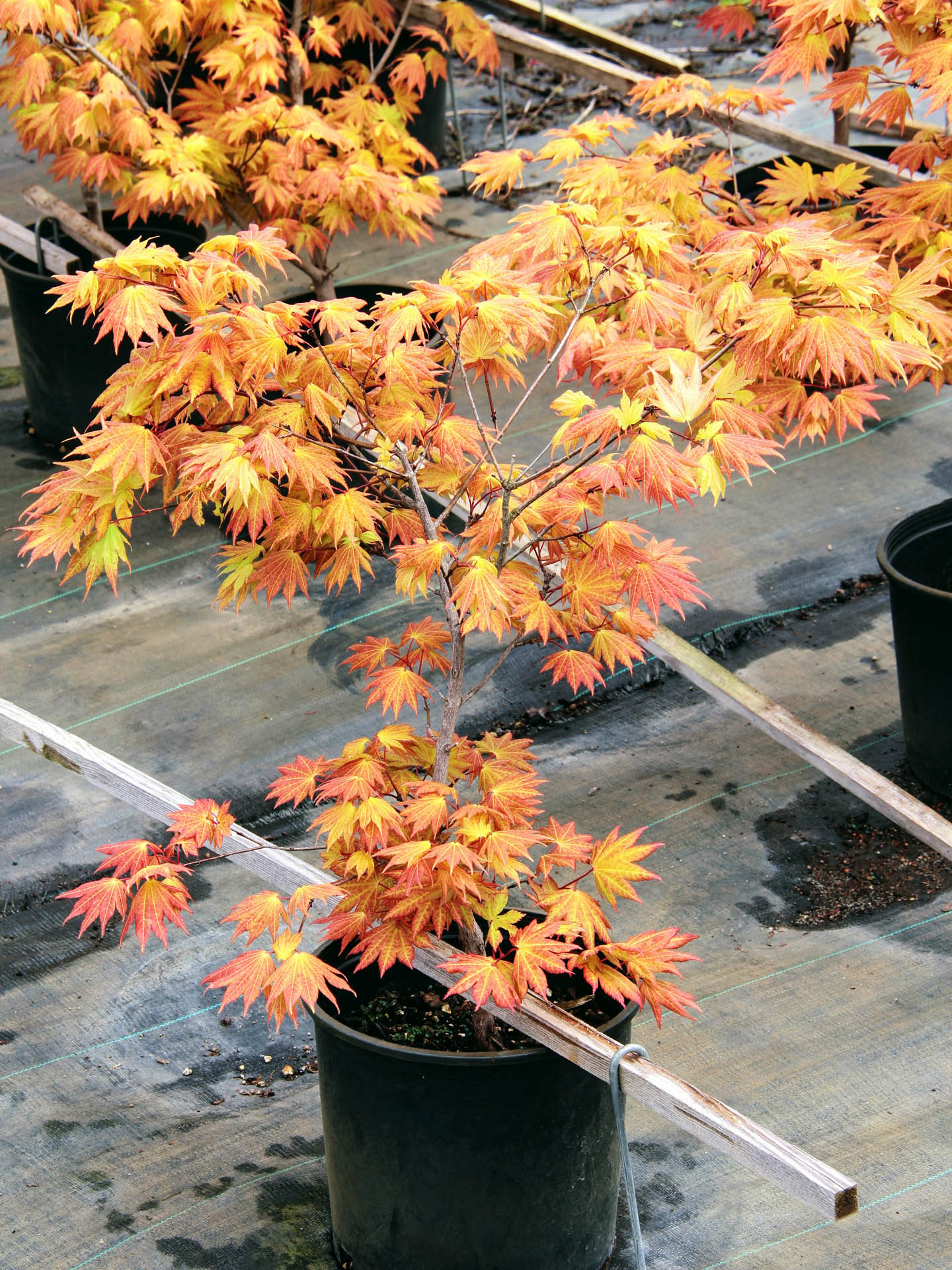 Seasonal Color
When the leaves emerge in spring, they immediately start displaying their burnished orange color. These salmon to apricot hues will persist until fall, when they light up the landscape with incredible shades of fiery gold to scarlet. In shady locations, these color changes will be more subtle, so plant in full sun for the best display.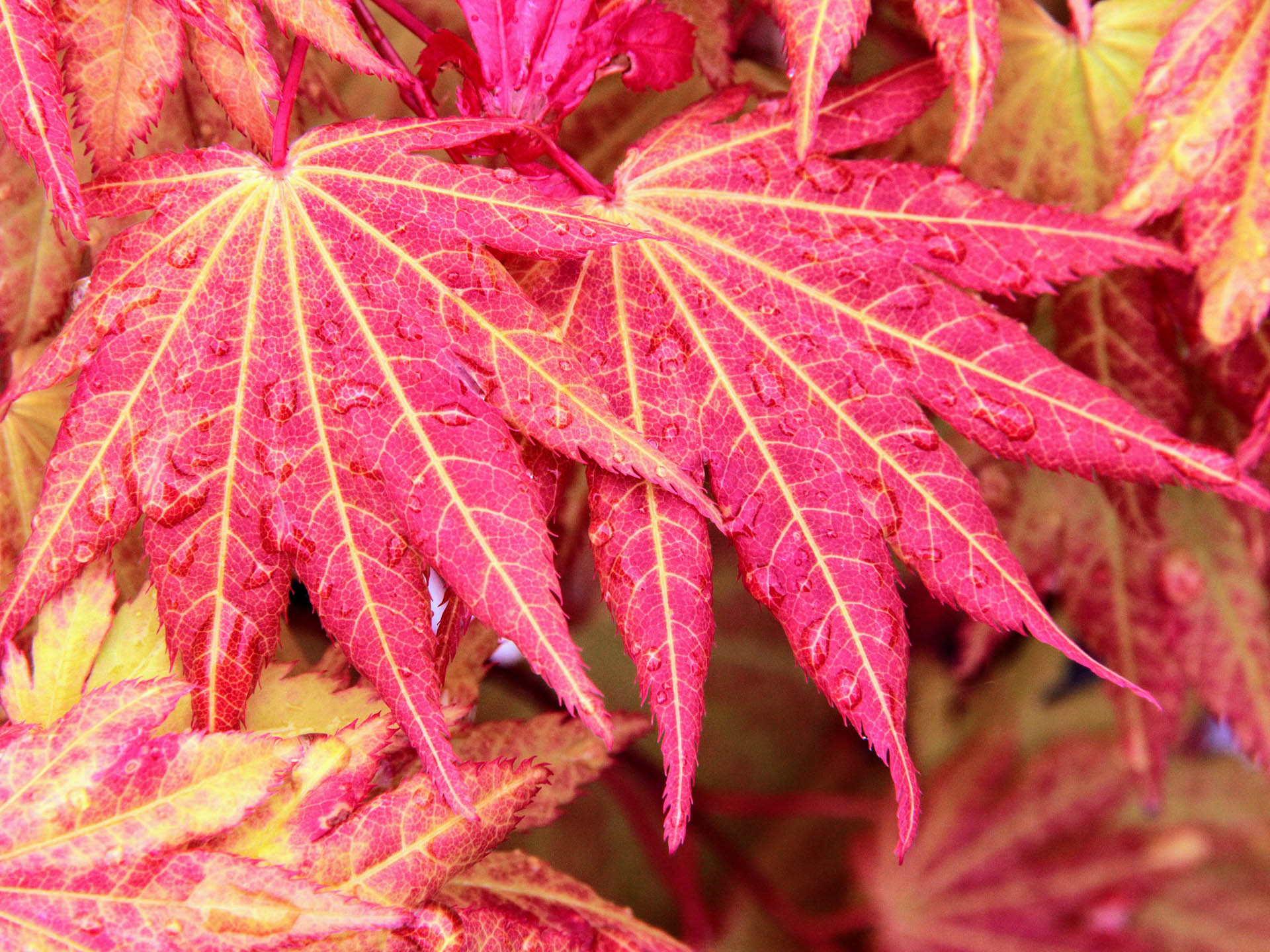 Landscape Uses
With its well-mannered growth rate and ideal habit, Autumn Moon is a perfect choice for growing in containers. You can grow one in a decorative pot to dress up a patio, porch, or balcony. Make sure to water it regularly even in cooler weather if you place it under an overhang that prevents it from receiving rainwater. As it grows, you can size it up to larger pots and keep it in a container even when it is quite old.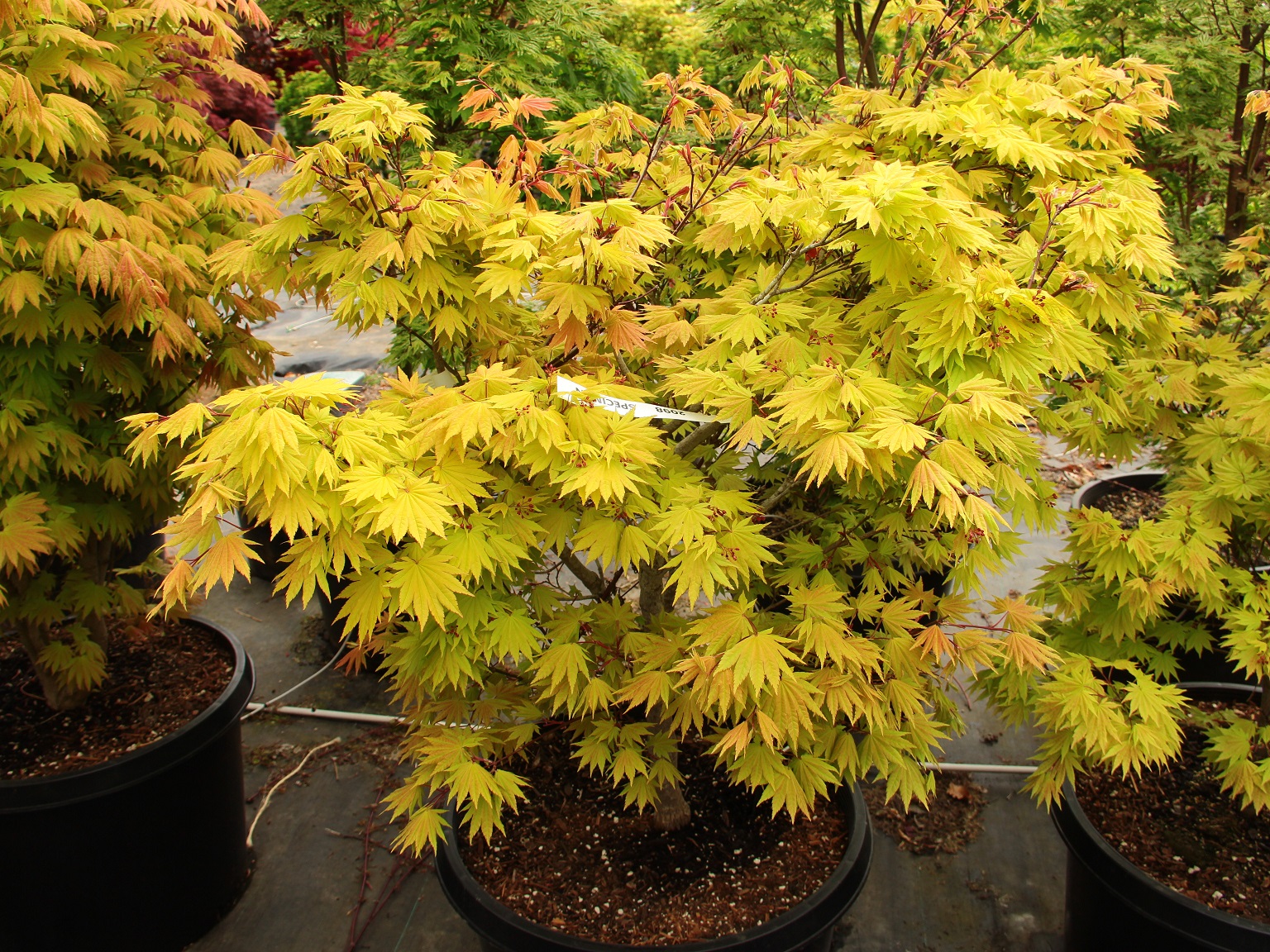 Some plants are chosen as fillers or backgrounds, while others are meant to be focal points. Autumn Moon definitely belongs in the spotlight! Give it a prominent spot where you are sure to see it often so you can enjoy it to its fullest. Choose companion plants with blue, deep green, or burgundy hues to make it stand out even more.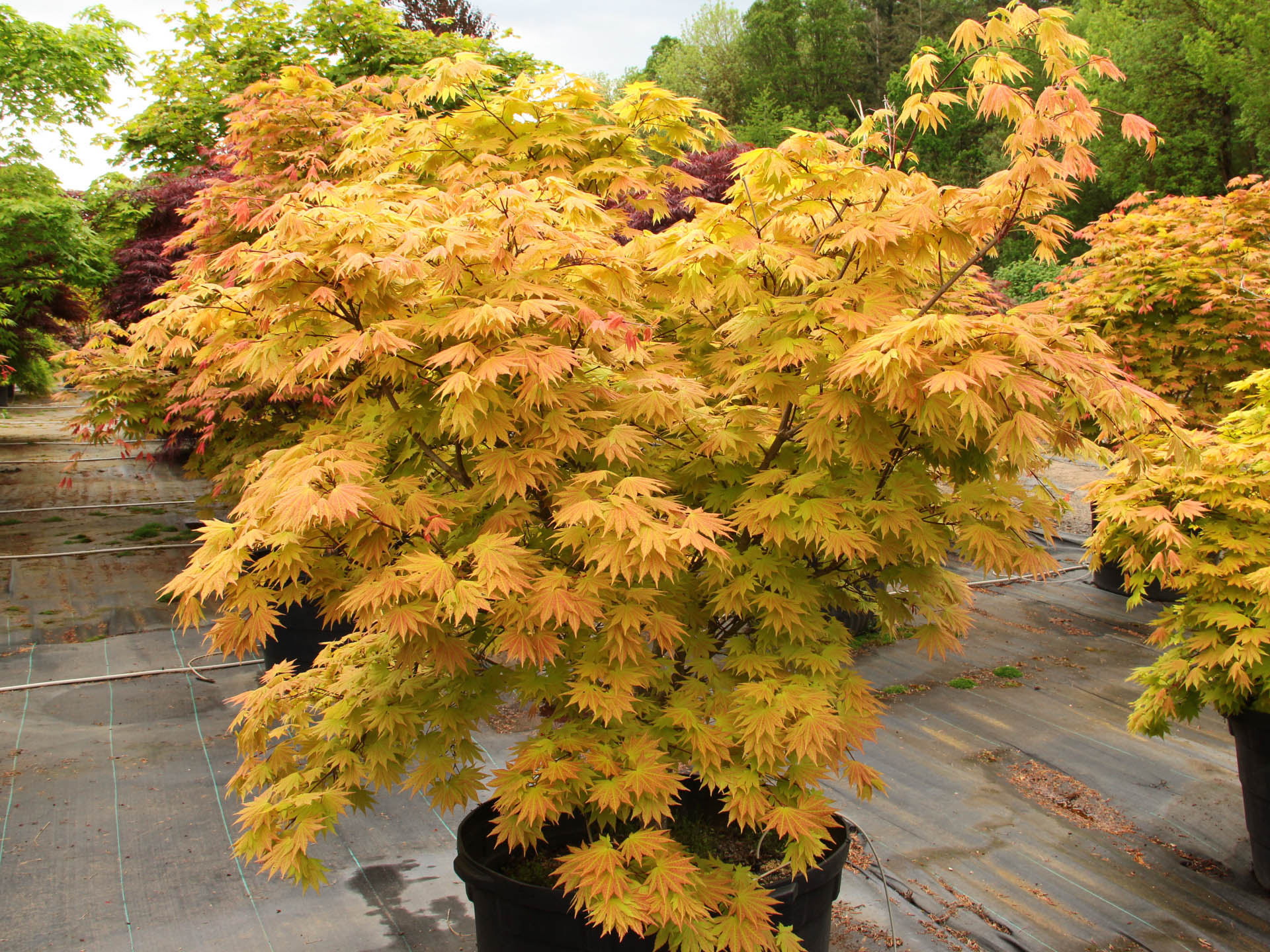 An advanced design technique for larger gardens is to use Autumn Moon as a tool for pulling the eye through spaces. Consider the different viewing angles carefully before planting, and use it to create a cohesive experiential landscape. It can be the connection between many different garden areas.
Similar Varieties
While Autumn Moon can be considered in a league of its own, there are several varieties that are worth comparing and contrasting.
Acer shirasawanum 'Moonrise' PP#16718 is a very similar variety that is new on the market. While the coloration, growth rate, and size are very similar, in our experience Autumn Moon tends to have more even branching and a more consistent structure.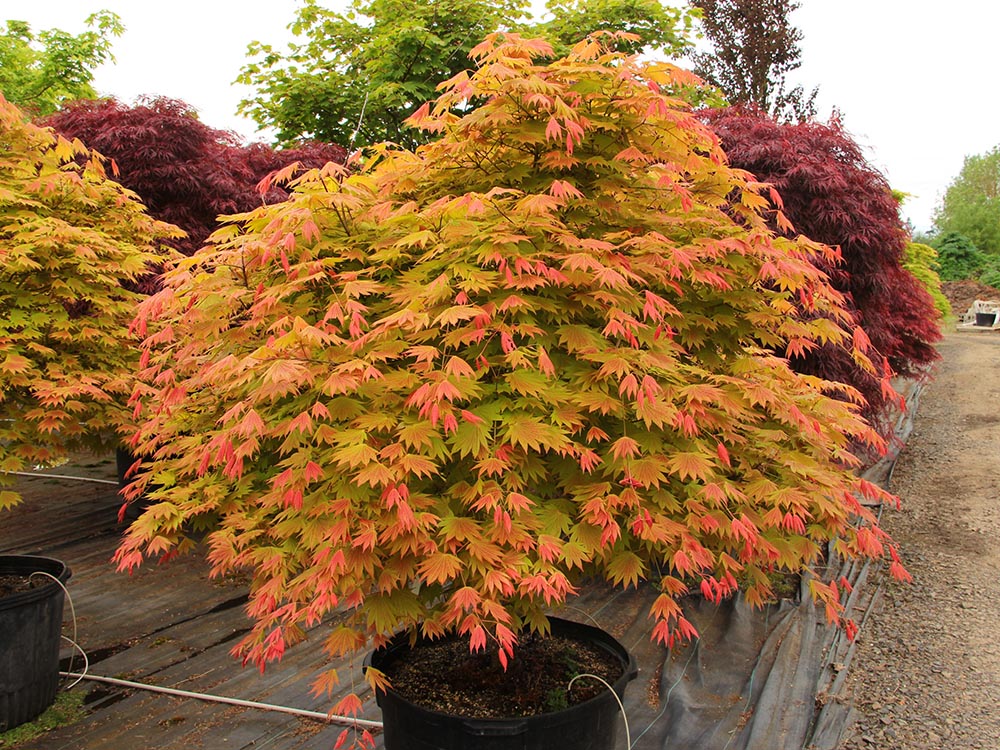 Acer shirasawanum 'Aureum' is a classic Full Moon Maple variety with glowing golden foliage. Autumn Moon grown in full shade will look similar. Due to its pale color, Aureum needs more shade than Autumn Moon, requiring at least full afternoon shade to prevent sunburn. The fall color is shades of gold and orange.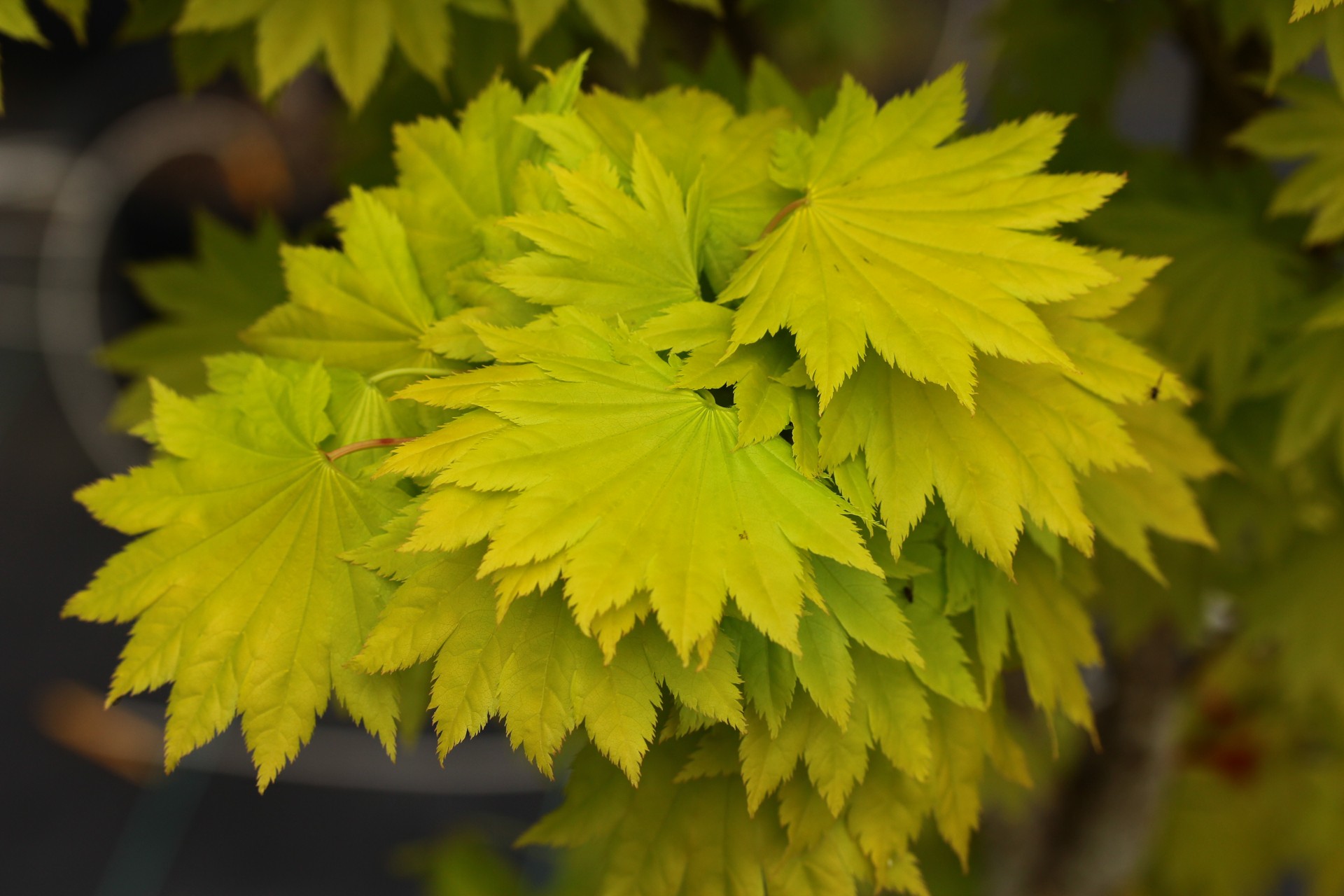 Acer shirasawanum 'Jordan' boasts a bright golden color like Aureum, but tolerates full sun without burning. It is a great candidate for hotter, drier areas. It has pretty pink petioles that add interest. Jordan has incredible fall colors in red and orange. It was discovered in Italy by Gilardelli Nursery and named for the Fratelli Gilardelli's son. If you want brilliant yellow color in a full sun or light shade location, you can't do better than slow-growing, low-maintenance Jordan.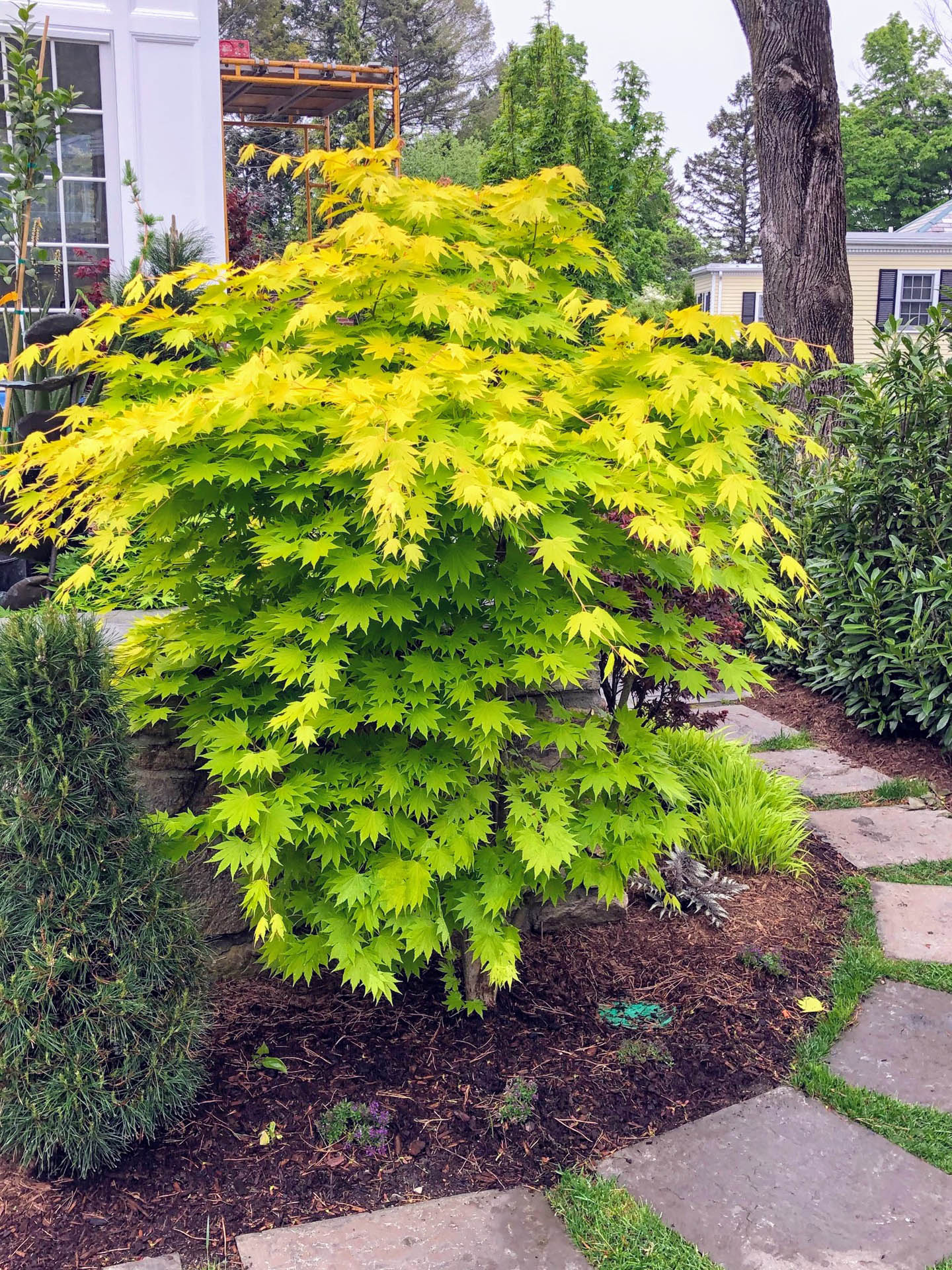 Acer palmatum 'Orange Dream' is a different species of maple that is known as one of the best orange palmatum types. It is less cold-hardy (Zone 6 instead of Zone 5) and requires a bit of shade to prevent burning. The leaves are orange when they emerge in spring, but they fade to a yellow green through summer and fall.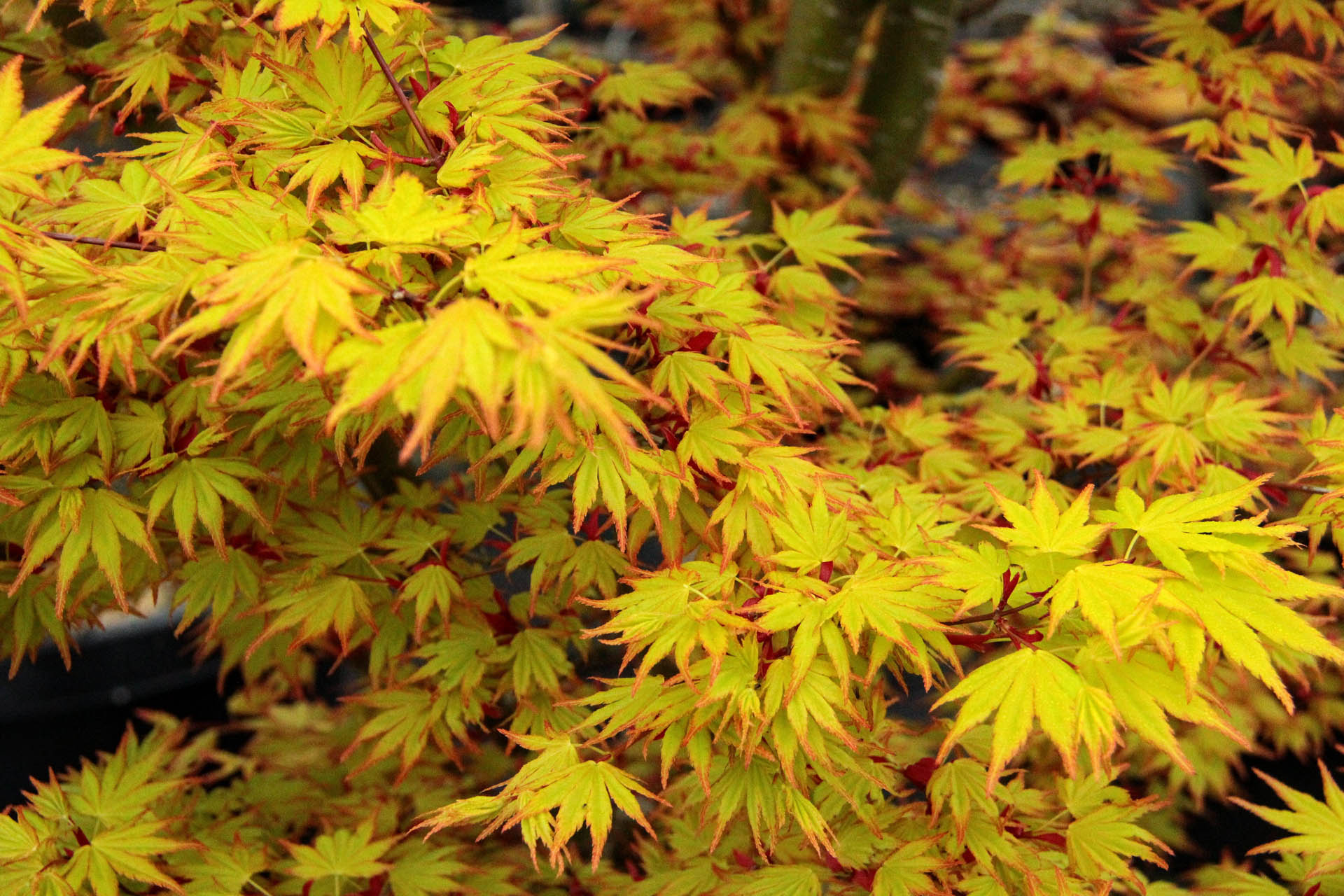 Acer palmatum 'Ueno Yama' is another palmatum-type Japanese maple with gorgeous orange, yellow, and red tones in spring and fall. It turns to green in the summer. It can be grown in full sun to partial shade for best coloration. In 10 years it reaches about 9' tall and matures around 12-15'. Many growers claim that Ueno Yama has better orange coloring than Orange Dream. It is hardy in zones 5-9.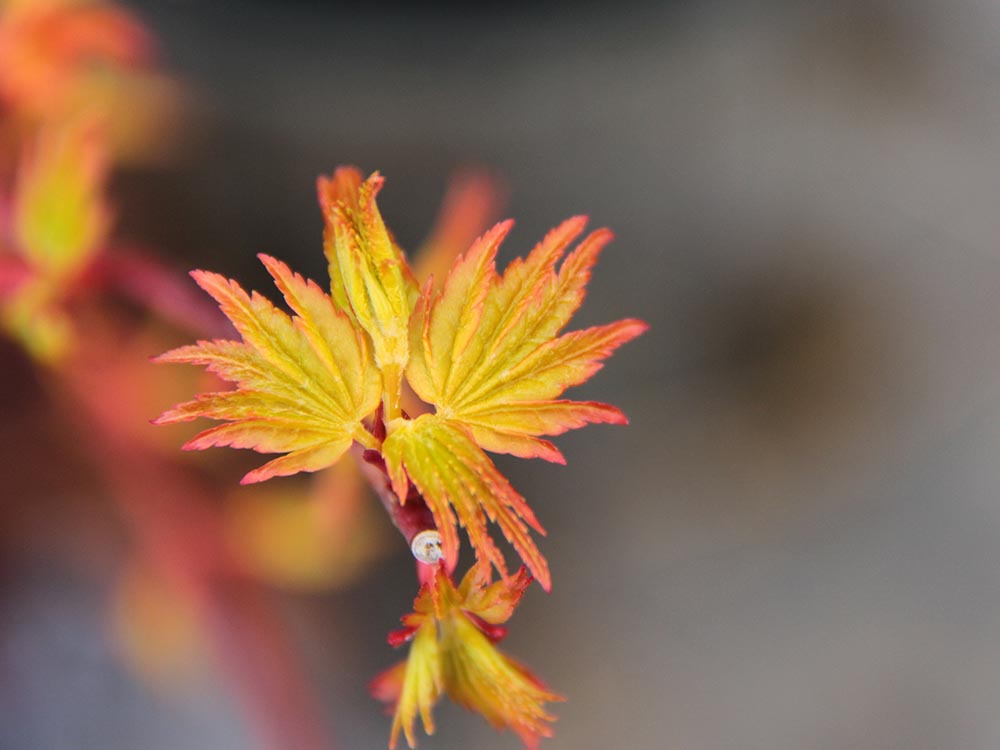 Acer palmatum 'Shidava Gold' is an excellent choice for adding bright gold interest to a landscape. The gold color is most brilliant in spring and fall, with the summer color taking on a bright green color. In winter, the bright green bark makes a statement on its own! This maple also stands out for its dwarf size, making it perfect for smaller gardens or growing in containers. It was discovered as a witch's broom on A. palmatum 'Aoyagi' at a nursery in Australia. At maturity, it rarely reaches 6' height. It grows well in full sun to partial shade and is hardy in Zones 5-9.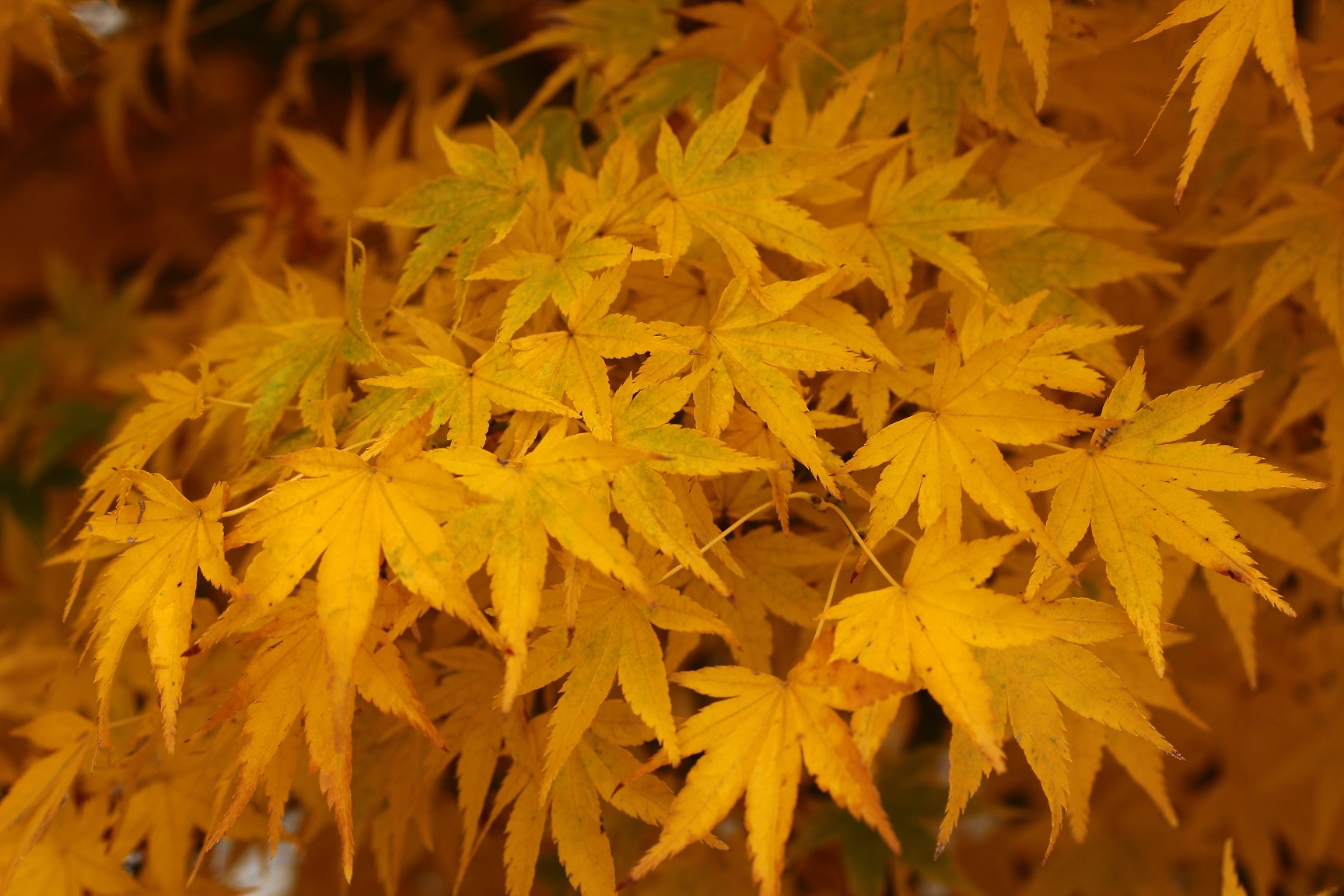 SIZES AVAILABLE
Autumn Moon is so popular that we make an effort to have it available in a huge range of sizes, so that every landscape has a perfect fit. All of our Autumn Moon plants are grafted for ultimate quality and vigor. You can almost always find it on our site in a #1, #3, #7, Jr. Specimen, and Specimen size.
#1 (1 gallon) sizes are typically 9-12" tall and are 2-3 years old.
#3 (3 gallon) sizes are typically 18-24" tall and are 4-6 years old.
#7 (7 gallon) sizes are typically 24-30" tall and are 7-8 years old.
Jr. Specimen (10 gallon) sizes are typically 36-42" tall and are around 10 years old.
Specimens are all unique, fully mature plants that have their own personalities and shapes. Each one is assigned a number, so when you purchase one from our site you know exactly which specimen you are getting. We have them in containers from #45 to #95 and are up to 7' tall and 8' wide. They range from 10-15 years old usually, but sometimes they are up to 40 years old! These magnificent beauties ship on pallets all around the county to make sure they stay safe in transit.